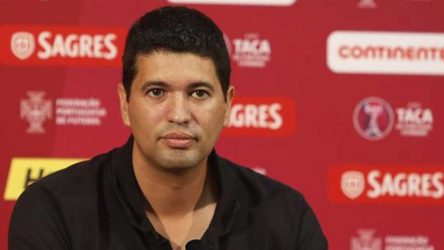 Interview with Pedro Bouças – José Mourinho, Jorge Jesus,…
A man of many talents. That seems a suitable epithet to describe Soccer Hub's latest interviewee. Pedro Boucas is a coach, analyst, youth coordinator and television pundit. He is arguably best known for his resounding success coaching the Benfica women's team, with whom he oversaw a gargantuan trophy haul: two Portuguese Cups, two National Championships, one Super Cup. In terms of his public profile, Pedro can be seen on the Portuguese Football Federation's TV channel where he lends his wisdom as a commentator. An expert in Iberian football, Pedro sat down with Soccer Hub's Ricardo to discuss, among other things, Portugal's recent success and its root causes.
But first, Pedro provided us with some personal insight into his unique journey within the game. "I always had a passion for football", he mused, "but I had an injury and had to quit playing". He went on to say that, despite his trauma, he was still resilient – "I knew I had to be something in this game". "I had several teachers who at the time were training the Portuguese national teams – I learned a lot with them, I actually remember seeing Cristiano Ronaldo in a training session when he was under 17". The experience was a positive one for Pedro, "because I couldn't be a footballer player, I became a football coach".
A man with many irons in the fire, Pedro is also the creator of Lateral Esquerdo, a football blog with an emphasis on tactical analyses. Asked about how it came into existence, Pedro remarked: "I wanted to prove that although football is played with your feet, there is a lot of brain involved in the match". He was well ahead of the curve with this as the widespread interpretation of football as an intellectual pursuit is a relatively new phenomenon. "You need to be smart to be a football player, not just have good physicality", he said. Pedro wanted to "explain my own ideas about the game – to prove the importance of tactics. After all, the good player, as Ricardo mentions "is good from the neck up, not from the neck down."
Moving away from his personal ventures, Pedro was asked about coaching more broadly and what characteristic he feels are necessary to be an elite coach in today's modern climate. He proffered a tripartite structure. In his opinion, one needs "good ideas", "good training sessions" and "leadership", tying the three together by asserting "it doesn't matter how good you are in understanding the game if in the training process you can't prove that".
Jose Mourinho is a name firmly embedded into every self-respecting Portuguese football scholar, and Pedro is no different. "Mourinho had a huge influence on all of us", he said. Recalling what was arguably the Special One's most impressive triumph, Pedro observed: "he [Mourinho] won the Champions League with Porto – they didn't have the same quality players that all the other teams in the Champions League had". "In that era, he was a very attacking coach. Now he is in a different era" – it's no secret that the enigmatic manager has favoured a more agricultural style of football in recent years. Continuing, Pedro said fondly "he was almost the father of the mental game… he had lots of influence in the way that teams played but also in the way he performed in press conferences".
So, what is it that marks Mourinho and other Portuguese coaches out from the rest? "We have our own methodology that is now being studied all over the world – Portugal created tactical improvisation". It's a big claim but not an overblown one. "A few years ago," Pedro went on, "training was physical, maintaining your physical form". Now, "when we prepare for training sessions, we prepare them by thinking in the match".
Flamengo coach Jorge Jesus is a coach who has been influenced by this distinctive approach to the game. Pedro, whose video analysing Jesus was wildly successful with fans of his Flamengo side, explained that "Jorge Jesus is known as a coach who gives lots of importance and credit to the tactical way of the match – he went to a league which was not so developed in that way". "When you put together a coach who makes his teams play in a collective way and you give him the talent [to work with], you combine both things", Pedro explained.
Asked about his plans for the future as the interview drew to a close, our interviewee affirmed that "today, I don't feel like I'm missing something without being on the pitch". Proof that there are so many avenues into a footballing career which don't involve being on the grass.  
See all the interview