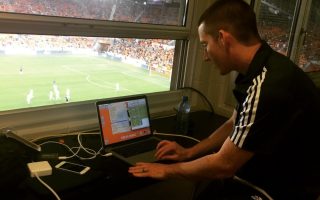 "My story is very different to many analysts in the world of soccer"
Earlier this week, Soccer Hub invited Oliver Gage to take 20 minutes out from his job as Head of On-Field Performance and Recruitment for the Canadian Premier League and offer us some insight into the realities of scouting in one of world football's fastest-growing outposts, North America. The former match analyst with Houston Dynamo and founder of Coach Tech, an online coaching platform which teaches coaches how to get the best out of modern technology, gladly accepted. We can also exclusively reveal that Oliver will be working with Soccer Hub to produce a course centred around creating and implicating a clearly defined philosophical playing style.
So how did this former marketing student get to this point? Well, as Oliver explains, his path was far from conventional. "My story is very different to many analysts in the world of soccer", he said, alluding to the fact that he has very little in the way of playing experience or indeed any experience in the footballing industry prior his big break. After completing university in England, Oliver moved to America to pursue a scholarship to become a player. "I loved it," he said whimsically. His time in America would turn out to be a hugely influential factor in his footballing education.
After returning to the UK, Oliver persisted with football but this time in a more analysis-orientated fashion. Despite being a diehard Sheffield United fan, he embarked on an internship with their cross-city rivals Sheffield Wednesday. At this time, "Opta were a brand-new company, Wyscout and InStat and companies like that were very new and it was very early on in the industry that is video analysis". After developing his trade in Yorkshire, Oliver "decided I wanted to use the skills I'd learned and use my experience to come back out to America and try and be a full-time analyst".
Oliver got a role at the University of Virginia where his team won a National Championship at college level before he "decided it was maybe time to try and see if there was any jobs available in Major League Soccer. From here, he took sent his resume to every single MLS clubs and eventually accepted an offer from Houston Dynamo to be their match analysist and regular performance analyst. After earning his stripes in his time with the club, in which they won the US Open Cup in 2018 and reached the Western Conference Championship final in 2017, Oliver "decided to approach the club and talk about moving into a more technical recruitment role". After 18 months in this position, he decided to pursue a new project in Canada with Canadian Premier League where he remains to this day.
So, what does Oliver's job as Head of On-Field Performance and Recruitment involve on a day-to-day basis? "Well", he says, "there are two main aspects". Firstly, he "works with the clubs on their match analysis processes". For this, he uses data from Opta and others to help day-to-day coach and looking for trends in their performances. Secondly, Oliver works with "each one of the seven [Canadian Premier League] teams all at the same time and help them to find new players". With regards to this recruitment aspect of his job, when asked if it was strange to work for every club in the league simultaneously, Oliver explained that "A huge aspect of my role is staying impartial – if I'm going to find a player, I need to make sure every club has an equal opportunity to gain access to that player".
When quizzed about his other footballing venture, Coach Tech, Oliver told of how there was "very little out there in terms of coach education in this [technology-centred] area". "One of the things I found when launching Coach Tech was the Soccer Hub site", and this inspired him to create an "in-depth specific course in scouting and performance analysis". On the benefits of the internet to footballing education, Oliver remarked that "the strength of online courses is the prices, you don't have to travel or stat in a hotel – so, I thought it was a good way of providing something to people that there was definitely a need for".
Asked about whether he believed scouting is a potential alternative route into coaching, Oliver emphatically answered "yes" but doesn't believe it's the job for him – "I don't think I'm gonna be a coach – it's not for me. If for a very strange reason I got put in a coaching job one day I would need a very detailed-orientated and very traditional coach next to me that would take all the sessions. I would be the guy who watches from a distance and makes small changes".
But even though he doesn't want to go in a coaching direction himself, Oliver believes that "the more you know of an aspect of the game the more that can help you relate to your players and staff".
Interview with Oliver Gage
See also
Soccer Analyst (level 1): Game Analysis