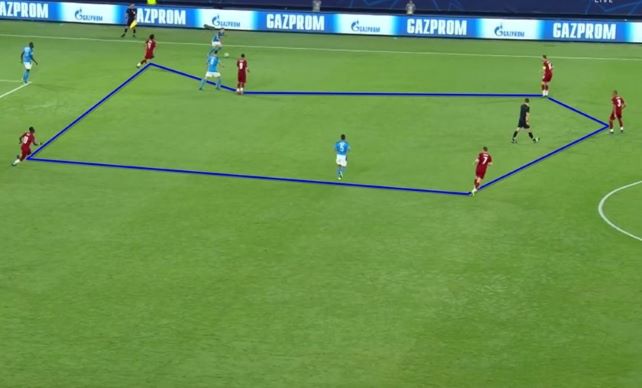 The formations change… but the principles remain!
Napoli's POSSESSION PHASE
The usual game system used by Napoli in possession is 1-4-2-3-1 formation. Instead, in the first Champions League match against Liverpool, we have seen Napoli with a new look : 1-3-4-3 formation.
Starting from the back, Koulibaly (left) Di Lorenzo (right)  and Manolas (center): all three players begin to play out from the back, with Meret (GK) who helps, by forming an hypothetical diamond.
Fabian Ruiz and Allan have been builders (Napoli's play) and breakers (Liverpool's play). The Spanish midfielder is more skilful and accurate in tight play, Allan recovered more balls and won more duels. Certainly, they complement each others style of play.
Both are positioned very wide; the chief principal of play is "play with width" and  Mario Rui on the left and Callejon on the right (pictured below) have been the main players in this. When the ball was played on the opposite side of Callejon, more than once he has been out of the frame to receive the ball from a switch of play or after a recycling of the ball.
Callejon has performed 2 crosses, Mario Rui 6. When Liverpool left gaps and free space to be exploit, even Di Lorenzo has overlapped to help to create a numerical advantage (always Allan covered him).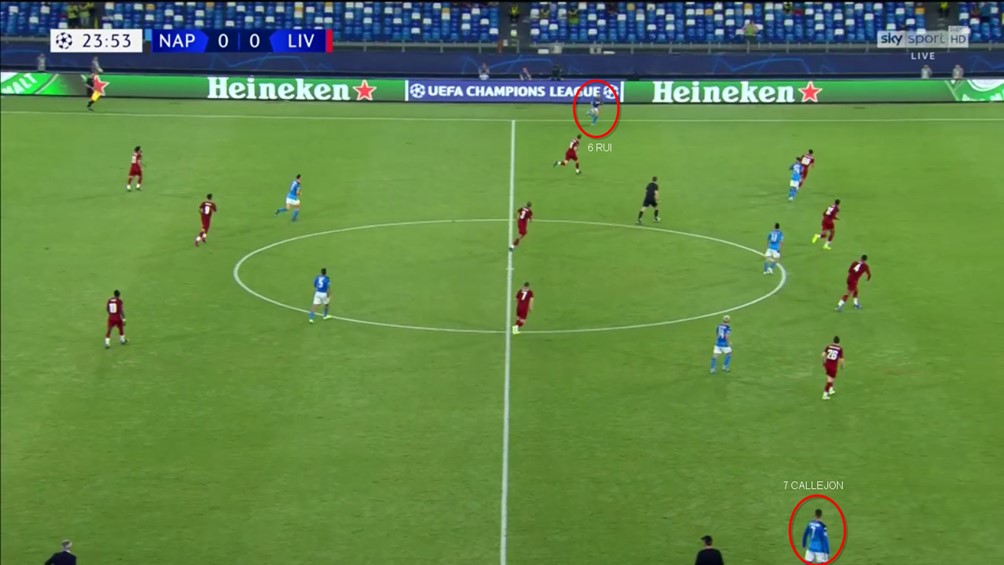 Mertens on the right, Insigne on the left and Lozano center forward. I could have written 1-3-2-2-2-1 or 1-3-4-2-1… the essence though remains the same. We talking about principals and movements…not about numbers.
The movement off of the ball by two tenacious and proactive players (Mertens & Insigne) has been the main problem for Liverpool and has given Napoli a numerical advantage Klopp has instructed his players to play out of possession 1-4-3-3 .
With a ball played in the opposite side of Mertens, he has dropped back to receive between the lines and pass to Callejon (wide as we said before). One-two's between both players and Mertens is fast to come back into his forward position with Lozano and Insigne, with Fabian Ruiz as support and Mario Rui wide on the other side. Insigne did the same sequence with Mario Rui.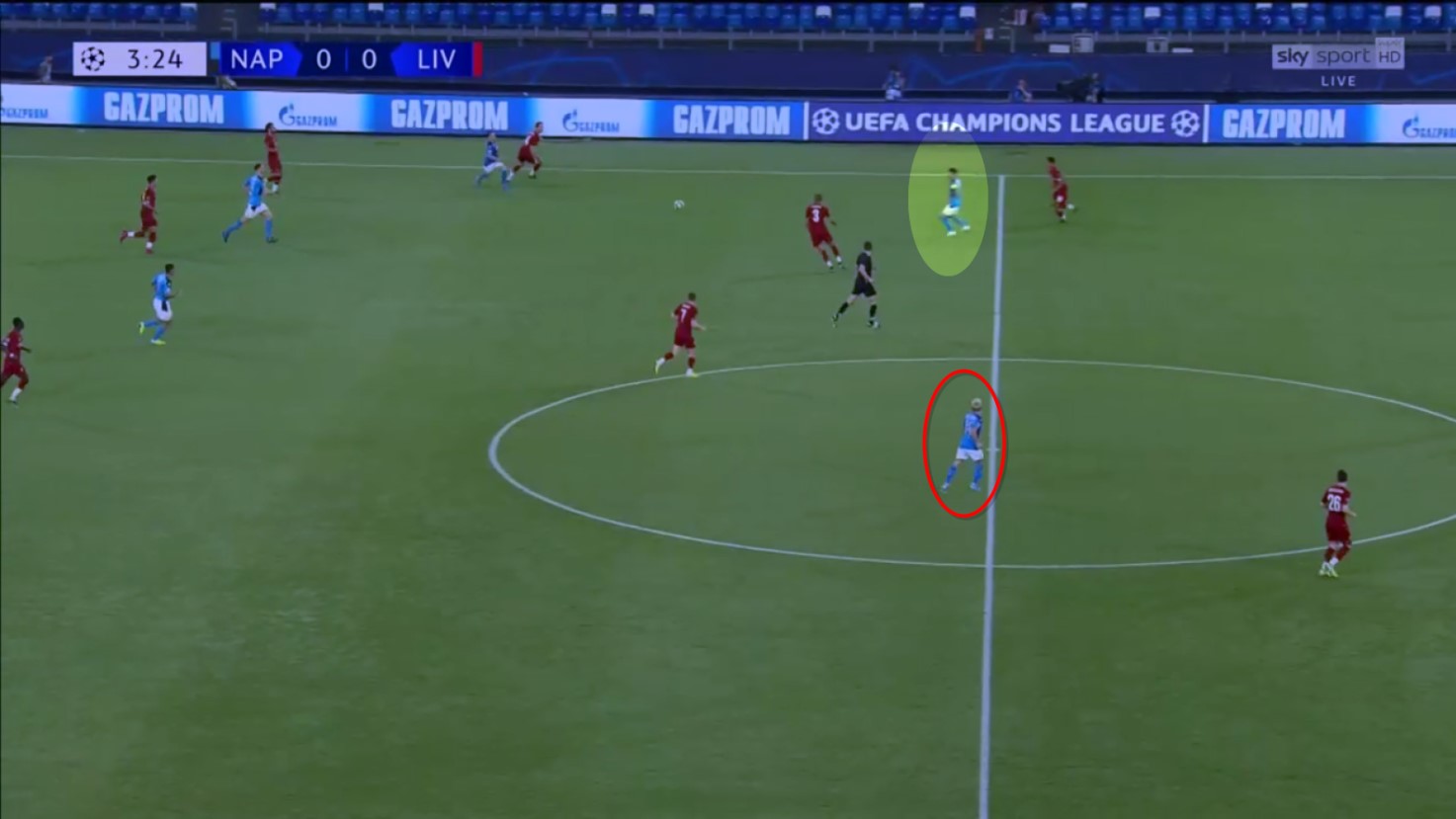 The picture below shows the positions of Mertens; we can recognize his movements to support the play dropping back around the halfway line. The yellow dots are positive touches,red dots are negative. Even if, it is normal to see near the goal more reds than yellows,  because in that part of the pitch the play is more chaotic and full of duels.
In all this,
I have a fair question:  has been Liverpool able to block Napoli in its attacking phase?
I believe not. Manè, Salah and Firmino have been attracted by Napoli's  play out from the back (picture below), in which Napoli has held the numerical advantage  having one between Allan and Fabian Ruiz.The three-man midfielder have not screened the back four, because Mertens and Insigne have been free to do whatever they want.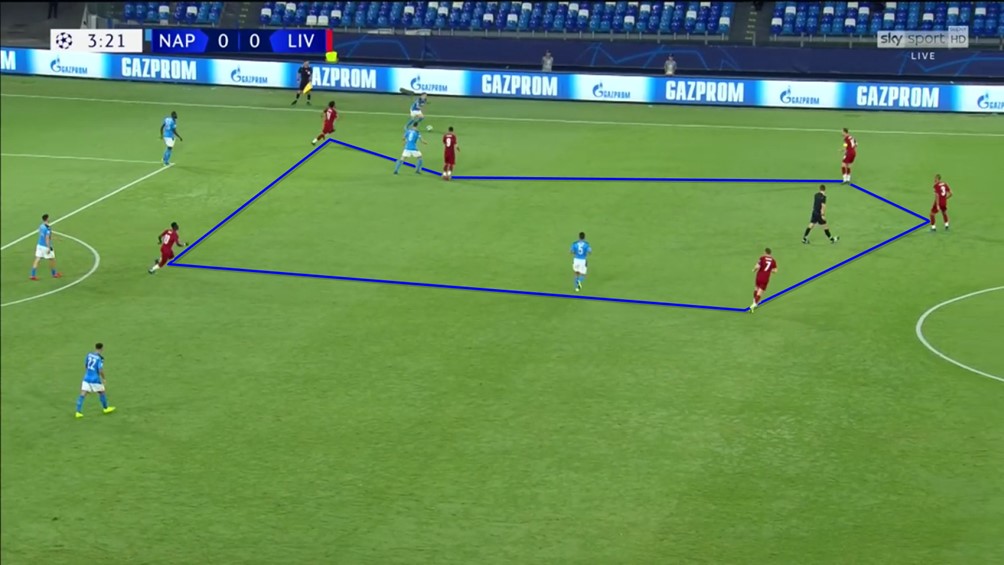 Everyone knows about Van Djik's record: last season (Champions League included) no one was able to win 1v1 against him. His art comes from the great skills to read the game and anticipate the opponents, so we can say that 1v1 should be an attacking teams last option, in which we have seen this match to be brilliant in all cases. Specifically, he won 12 duels! More than all the players! He has done this in the opponent half as well and this is an indication of the three-man midfielder's weakness, because more than once there was a situation of equal numbers!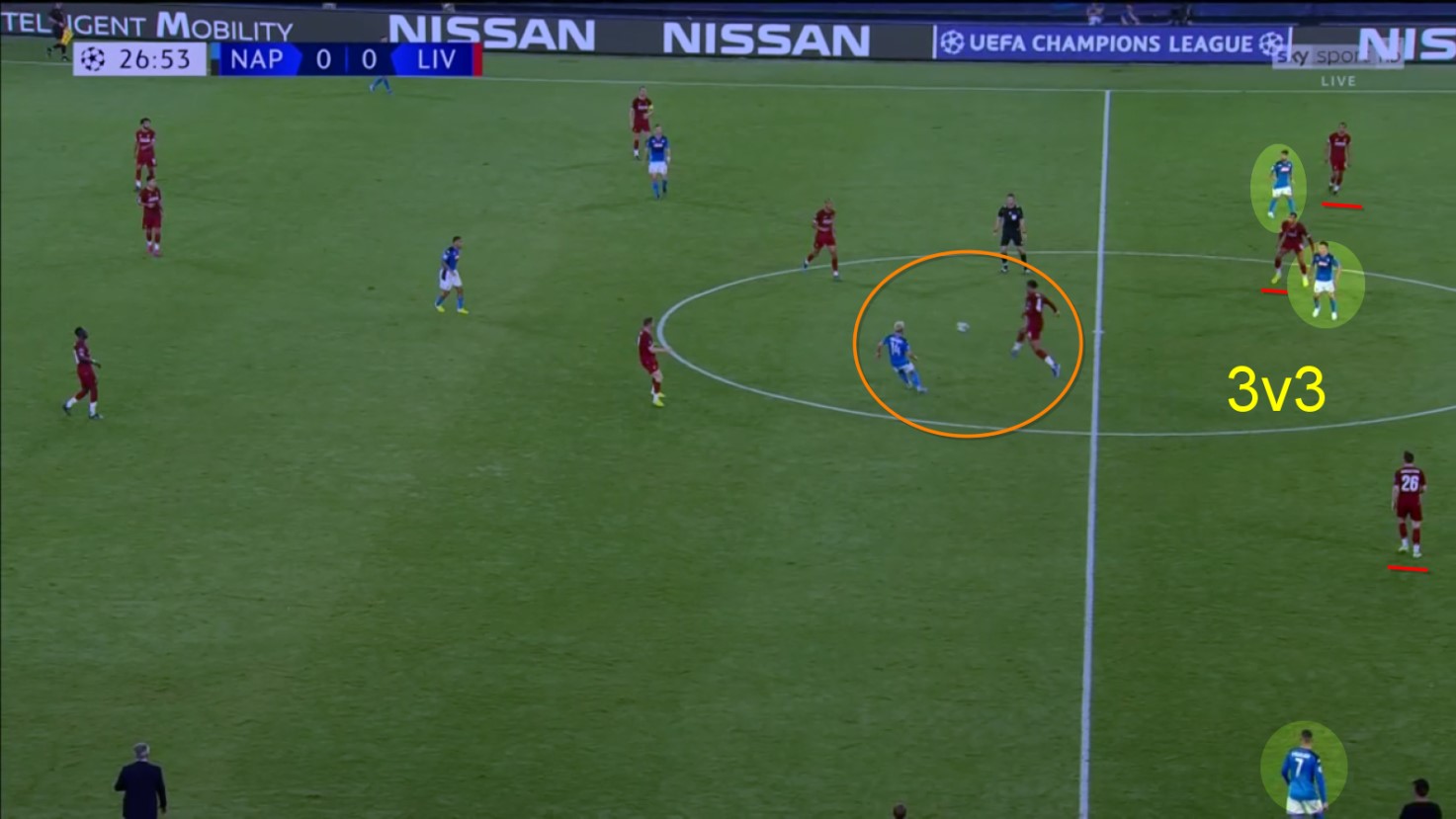 Napoli's DEFENSIVE PHASE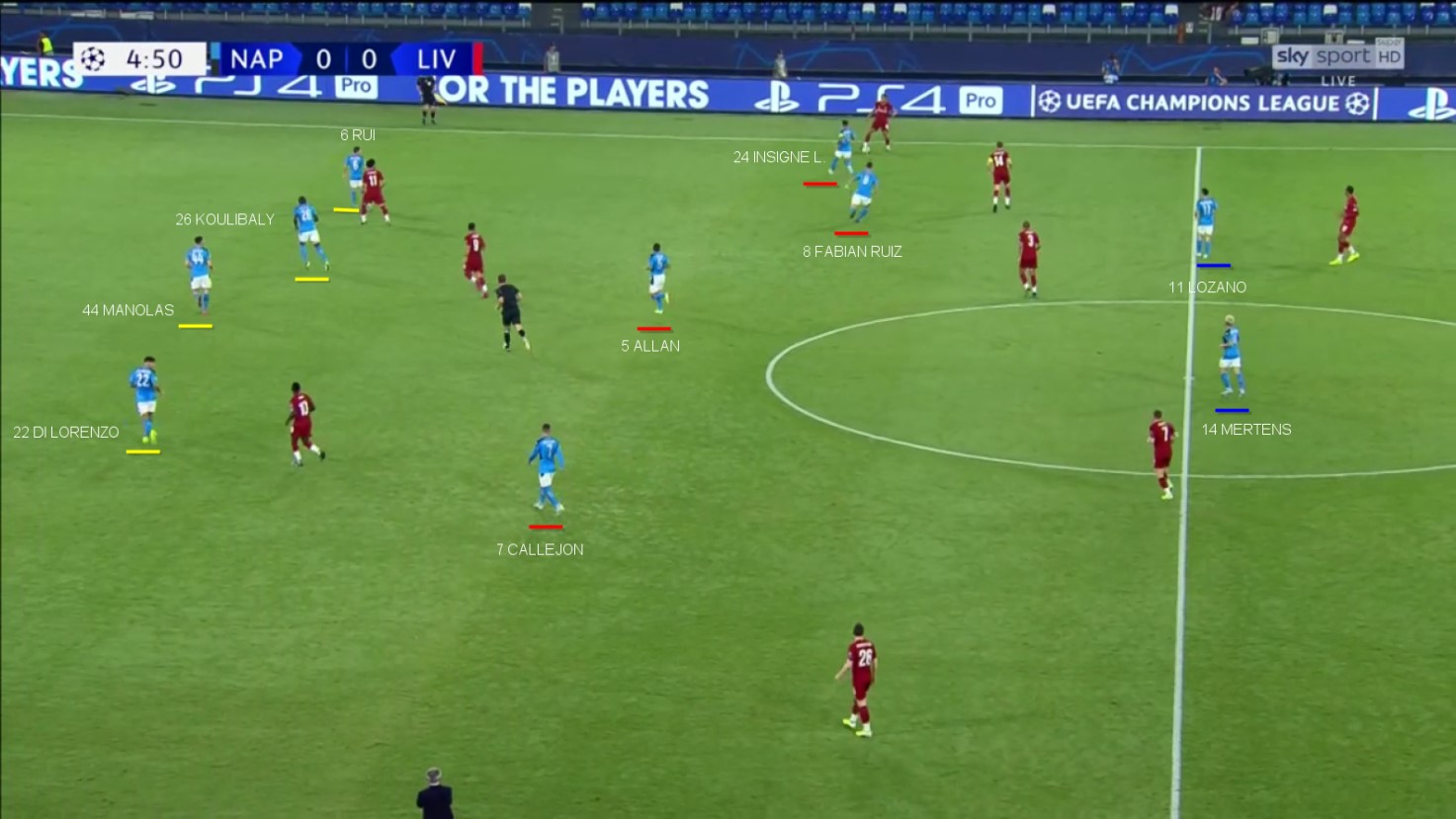 From 1-3-4-3 to 1-4-4-2. Napoli changes its shape, with Insigne dropping back and Lozano and Mertens being the first two to start the pressing. Also, Mario Rui drops back to become a Full back.
The principals developed are compactness between units, double marking and duels.
If Liverpool's midfielders have been in possession, Allan and Fabian Rui have covered the central space well, with Callejoin going to make double marking to help Di Lorenzo.
An interesting statistic about 1v1's is: Salah has won just 2 over 14 duels tried. The synergy between the units has been fruitful !
As last, Napoli's pressing has been directed to the right side of Liverpool (maybe aiming to limit balls for Salah) and for goals kicks, Adrian has not been able to play short because Lozano and Mertens were positioned very high.
Edited by Eugenio Sena
edited using Videomatch (Sics' software)
Watch the full videos analysis here (register – free of charge):
http://www.allenaremania.com/en/2019/09/formations-change-principles-remain-napoli-liverpool/
Find more about Soccer Analysis in one of our courses: https://hub-soccer.com/course-category/soccer-analysis/