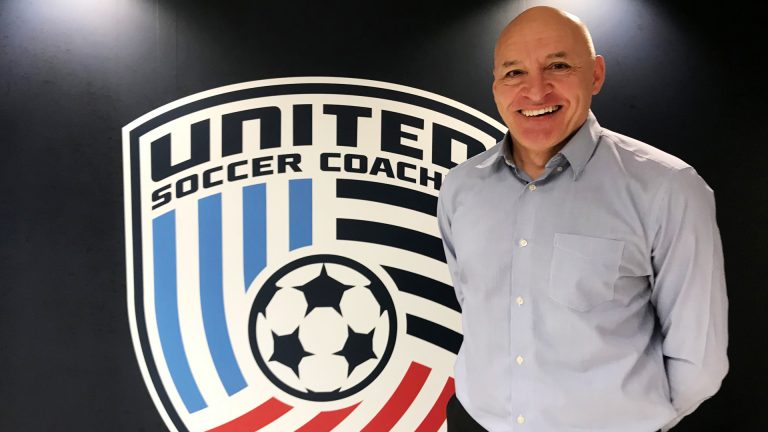 Soccer HUB Interview: With Ian Barker
Exclusive interview with the Director of Coaching Education Products & Programs at United Soccer Coaches (USA), Ian Barker!
SH: Can you tell us a bit about your path to the current point?
IB: Thank you for having me. I'm currently the director of coaching education of the United soccer coaches which is a member of US soccer and we are the biggest membership organization of soccer coaches in the world. I am in charge of the educational programs. I'm a native of Great Britain and I played amateur and college soccer in Great Britain and then upon my graduation from undergraduate I traveled to America in 1987. I was able, very quickly to work in summer soccer camps with young children that led to a college soccer coaching job which in America is a full payed, full time opportunity. At the same time I started working in coaching education delivering courses for U. S. Soccer. After one college opportunity I became the director of coaching implied development for the children of Minnesota, one of our 50 states. Well we had 80000 participating, players and coaches. I landed another stint of college. Very good college in Minnesota, and the last 6.5 years I've been working for United soccer coaches delivering coaching education. I really enjoyed my playing time as a fairly high quality amateur player, but I always had seen seemingly had a vocation for teaching and sharing. And I don't believe that a good player necessary makes a good coach and I don't believe that, necessarily, a good coach makes a good coach educator. So I am fortunate that I have this coach education role and I think I have some ability and natural inclination towards it, and I'm able to work with mom and dad coaching the grassroots. I've had the opportunity to meet Mourinho, Benitez and Klopke and some of the great coaches. So I had that opportunity, thanks to soccer, for a good and broad experience.
SH: How has Soccer evolved in the past few years in the United States?
IB: So soccer in in the USA, I think, is in a very strong position. We have always been strong in the support of our national teams in the last 20, 30 years. So both our men's and women's teams have been well supported and our man have qualified for every World Cup from 90 up until the most recent one which is disappointing. And of course our women have won World Cups and our youth national teams do well. I think one of the big pluses in American soccer of the last 25 years has been the development of the MLS league. And after some mistakes in growing pains, we now see a very strong league. Attendance averages well over 50 / 60 thousand people. David Beckham's new franchise will be in Miami. So at the top end, I think it's in the strong situation. From the grassroots we have the challenges of baseball, basketball American football and Ice Hockey. We also have the challenge of not engaging with all our communities. So our Latino community participates in soccer but maybe not as much as African American. Also in our culture it can be quite expensive to play as a youth player and youth becomes high school, becomes college. So we are always trying to work out ways to make more open opportunities for kids to come into the sport. But overall I would say so with the successful bid for the men's World Cup in 2026, I think it's a strong soccer environment and it also provides great career opportunity for coaches, both here and coming from overseas to coach at the highest professional level but even coaches at the grassroots level because the clubs do employ coaches for that opportunity.
SH: Are there any opportunities for foreign coaches in the US?
IB: The challenging thing to understand for European or South American, is that a coach working with a community club of children in a small community can have a full time living. So, very often our European colleagues with UEFA A and B  licenses, they hope to coach in MLS or they hope to coach in second divisions, and there are very few jobs. There are some barriers for internationals because of immigration and so forth.
And so they see that as the only career path as it might be in another country, but what's really interesting in America is, if the coach is willing to maybe not coach the highest level player, but it's happy coaching community soccer or college, there are literally hundreds and thousands of paying jobs which allows a person to make soccer a full time career. They will never necessarily be playing coaching in MLS, but they might be coaching in a community helping the kids and helping the parents, with good community and soccer thru the community and make a good living. So the opportunity's here are very great. For an international, the main challenges is not the opportunity it's the VISA. Is either coming with appropriate VISA or finding an American organization to sponsor you. So your experience in the LA in our convention is how international coaches make those connections.
SH: What is the characteristic in the today's coach that you think that is more relevant for achieving success?
IB: I think the experience coach would tell you that perspective, being well grounded, not being very high and the emotional swings of being too excited when you are successful and too disappointed when your less successful. But I think that comes with experience. So the quicker the coach can find that center I think is very helpful I think good knowledge of the game obviously not necessarily of being a great player like Luis Figo but being a student of the game and knowledgeable and having credibility when you talk to players and when you talk to other coaches. So I do think qualifications, the UEFA awards and the ones we have here, are important. Clearly any coach to be successful must be an effective communicator. I must be an effective communicator, one on one with players and staff and then with the group. And they also potentially, in the modern game they must be effective communicators with all the parties outside of the family. So I'm a kind of a fan of Mourinho because I do think there is a lot more intelligence in what he does and how he manages information then sometimes the English media for sure give him. I think it is this overall, I think the communication, the qualifications education about being true to yourself knowing what your qualities are so if your very excitable character like Jurgen Klopke, embrace that and be that big personality currently in in Great Britain Pellegrini is coaching West Ham is a much more understated quiet guy so he placed his natural strengths I'm as he was a player would play to your strengths I think as a coach manager you place your personality and that requires looking inside and being self-aware and being self-knowledgeable I don't think coaches very often take enough time to do an internal study of themselves.
SH: What skill should the coach most master?
IB: Tactical insight and tactical flexibility. At the technical level, I think it's very clear that you have to be flexible with your ideas and your ability to change the game. So we would talk about you having a plan A, but I think the modern coach must have the plan B and plan C so he/she must have shared that plan with the players. Sometimes you see coaches, even at the highest level, maybe Argentina at the World Cup, all of a sudden something changes but the players are looking around and these are the best players in the world. So I think that flexibility in preparation.
It may not be something that people do naturally, but I would actually maybe write down my goal, my objective. And then start to plan the steps on the way. I know a little bit about Mourinho but obviously, being an interpreter with Bobby Robson and then lower management and all the way through. So a pathway, clearly some intention, some planning on his part and dedication. But I would also say, if you are a young coach and you are prepared to live out of a small bag of clothes and sleep on the floor and travel, then you can put yourself in some really good experiences. If however you have a family, and you must put some food on the table, then you may be done give yourself the same opportunities and you can dedicate your life to soccer the same way that the top top managers must dedicate their lives. So when you talk to Mourinho, he talks about his wife and family, and clearly he has those in an in a compartment. But he also oversees 80/90 percent of the time with Man United. So every coach must have a sense of how much they can commit, effort and time and money and sometimes the inability to commit and the time and the money is not the fault of the coach it is just that circumstance. I also think that the coach has to be, again this is perspective so the day that you at the very top the only place you can go is down. And the great thing about soccer is the day that you're at the very bottom, there will always be another opportunity, another club another location, another city. So the modern coach must be prepared for the ups and the downs. He must keep fighting to the middle and not be discouraged. You see a lot of coaches who have short careers because they only live when he is successful, and they can't handle the disappointment. The great managers, I think, and the great coaches are the ones that can understand that the game will always find you out if you don't keep honest.
SH: How is coaching coaching education structured in the United States?
IB: It's an excellent question and it's a little challenging for people from another nation to understand so give a quick history. We have a federation US soccer they are a FIFA affiliate and they run an educational program like any FA would do around the world. Because of the need our FA, our soccer federation, to also run the national teams, because we didn't have pro leagues for our man until 1996, other organizations got into education, including my association United Soccer Coaches. So from 1983 until approximately 2015, my organization, US soccer delivered coaching education in a very similar way. Coaches could just choose which one they wish. In the last 3 or 4 years our influences comes from UEFA, currently very strong from the KNVB in Holland and so, our US soccer federation has come up with a very Dutch inspired model of coaching education. My organization continues to coach education but more along at traditional US soccer model which has a lot of German inspiration, some British. The thing that is missing in our coaching education in this country is the Latin and Hispanic, South American Portuguese / Spanish influences were much more western northern European influences. A few years ago most European FAs thought the we did a great job in the sport sciences, Physical conditioning, technology and match analysis. Now, of course the rest of the world is doing it to. Our youth coaches, college and high school, I would say that are as good as any in the world. Absolutely, if they've been trained. Obviously our professional managers, we haven't had as many exported to other countries yet. Bob Bradley did a short time in premier league, it wasn't so successful but I do believe our top managers certainly could coach in the top leagues in Europe and I do believe that our well trained youth coaches are as good as any in the world at the grassroots level.
SH: Do coaches seek training with recurrence?
IB: Yes. I would I would say that we are a strong educational nation where so many people do attend at least 2 of 4 years of university this is very common some a lot different in my experiences growing up in Great Britain. So a lot of American people already predisposed they're ready to take education. It is still a minority when you look at all of the coaches in the game at the grassroots level still a minority that access education at the top professional levels everybody has taken the UEFA or federation badges. But there is enthusiasm for education. there is also as you saw in the LA convention, American coaches have essentially 2 thoughts: there are some that wish to go vertically, D to C to B to A to pro license, but there are many coaches to get that first education experience of the second and then they just wish to have continuing education. And I think this is a really important space. So if you're coaching your community club and you get to 2/3 hours of good training just some ideas then 6 months later we bring the education to your club again and we add to it. not to make you a top coach in the professional league but to make you an increasingly more effective youth coach with continuing education and the American public is very hungry for that very enthusiastic.