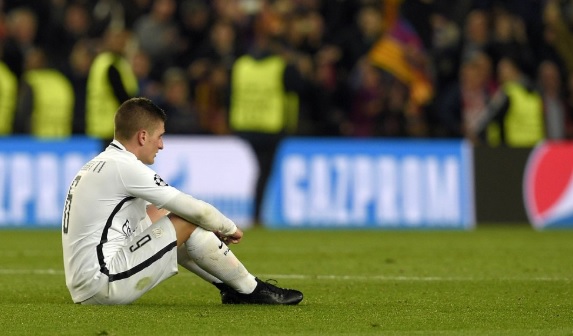 There are several stories that show us that after a great defeat can come a great victory.
I remember the words of Jerzy Dudek, Polish goalkeeper who was part of the Real Madrid squad in the first season when José Mourinho trained the club (2010/11). In his book "Under Pressure" he shares the message of Mourinho's speech after a 5-0 defeat against his eternal rival, Barcelona:
"I know it hurts. A lot. For many of you this may seem like the greatest defeat of your lives. But it's just the beginning. They are now happy, as if they had already won the championship. But they just won a game. There is still a long way to go to win the title. Tomorrow, you are free. But you will not stay at home. I want you to go with your wives, girlfriends,  children or friends and go for a walk around the city. I want you to show others that you know how to handle it. They may hear bad things on the way, but do not hide. Show your courage. And after that, we'll fight for the title. "
In his book, Dudek writes, "We ended up getting up faster than anyone thought. At that moment, after what Mourinho said, I realized the real importance of the mental side in Sport. How can you quickly win or lose."
The true meaning of defeat can go far beyond what the outcome conveys. And it all depends on how we face defeat. And how can we face defeat? Basically there are two ways:
We can generalize defeat. Facing defeat as an indication of something else (often associated with negative emotions)
This perspective of defeat is associated with broad interpretations of the outcome, and sometimes "hallucinations," which we can make after a defeat. Following these kinds of mental processes can often arise thoughts like "I can't do it", "I suck", "we are not paddling to the same side", "they are better than us", "against them we will never win "," we always fail at decisive moments", etc. Many of these internal processes are generalizations, which are mere assumptions and often in specificity have little to do with reality – it is only a judgment of it.
We can face defeat as a fact… Susceptible to learning!
A defeat is just that, a fact. A defeat could be the loss of points, the elimination of a European competition,… and that's it! A defeat can say very little about what we are worth, or deserve. What NLP and coaching taught me is that defeat and victory have no value in themselves. The meaning we give is already the power that each of us has in relation to the same fact. For some the defeat may be the step to immerse in a "hole" for others may be the real possibility to reach levels never achieved before.
It's easy to understand, the second perspective is frankly better than the first.
It is 100% mental in practice. This second perspective, in addition to not having a negative emotional load, allows "with a cold head" to recognize the weaknesses and strengths of the sporting performance. It allows facing defeat not as a failure per se, but as a true pretext for future learning. Lets look at the team and not be looking for the "guilty" and, yes, take responsibility for improvement and change in performance.
This second perspective is clearly more empowering. It enables us to look at the facts and realize what we can learn from them and how these learning can be integrated into our thoughts and behaviors.
Mental training, supported by coaching and NLP, favors conditioning for the second perspective, looking at defeat as leverage for the next challenge!
One of the great beauties of sport is the associated "emotional load" at the level of supporters, managers, athletes and coaches. It is the responsibility of the latter two, through mental training, to condition their focus and emotions to the results they wish to achieve!
If you would like to learn more about mental conditioning for success in Soccer, check out our online courses.