Do you want to help your athletes train safely yet effectively?
Do you want to help your athletes reach their athletic potential?
With the A.P.E.A.R model, you can.
In this two-hour course, highly qualified trainers will teach you the A.P.E.A.R. Model and how to apply it in athlete training.
Traditional training techniques emphasize a series of exercises that are based on classical construction principles.
New research has called into question the need for such a traditional approach of training. New training methods that are focused on the neurological system have also been proposed.
Such a cutting-edge training approach can improve many aspects of your athlete's performance throughout the game season.
The A.P.E.A.R Model incorporates these new research and training dimensions, offering practical tools that you can use to do the following:
Assess your athletes thoroughly
Organize and plan training programs that are efficient
Use evidence-based training approaches
Do more with less time
Students who complete this course will be awarded the Level 1 A.P.E.A.R Model certificate.
Course Features
Lectures

42

Quizzes

5

Duration

1,5 hours

Skill level

All levels

Language

English

Students

316

Assessments

Yes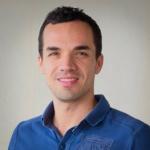 Nuno Cerdeira has been a strength and conditioning coach since 2009. He is currently Strength and Conditioning Coach at the Portuguese Soccer Club, FC Porto. Nuno is highly qualified. He has a sport science degree, as well as sports science certifications from the National Strength Conditioning Association, Harvard Medical School and Barcelona HUB. As a strength and conditioning trainer for more than 15 years, he has a thorough understanding of evidence-based training and an athlete's need to excel. He is currently working with soccer players and Olympic athletes (Tokyo 2020 project). Injury prevention and performance enhancement for athletes are his passions. He uses his sports science expertise, neuroscience and coaching tools such as Neuro-Linguistic Programing (NLP) to design individualized programs for athletes that are holistic and practical. Nuno is also Regional Master Trainer (Head Coach) at Holmes Place Academy as well as a trainer at the Clinica do Dragão - FIFA Medical Centre of Excellence.
Joao Santos

Thanks!

A very good tool for all coaches!

masseyk45

Great course

I enjoyed it. Weights in the state at my lvl are more focued at the wrong wrong football. I was looking into starting my own program and this helped me tremendously. I would have never thought about most of these things.

JASON HENRY

JASON

WELL PUTT TOGETHER LEARNT ALOT

Radu

Congratulations!

Thank you for the structure of the course and hope to come back with a real feedback after implementing the informations with the team that i work.

Tim White

An excellent model with excellent theoretical and practical tools.

I love this course a lot. This course is a real boost to understand the developments in physiological specific training needed for all footballers explained in perfect terminology.
You May Like
You May Like
€35.00
€26.25