This course is excellent for coaches who wants to understand the whole picture about the goalkeeper's game opening.
How we can get behind the press and how we can manipulate the press. We will be also focusing on which are the different levels of goalkeeper support movements.
In defending we will talk about awareness and what kind of information goalkeepers should find in the game center. One against one situations and positioning are really important, if we want to educate goalkeepers to win some important points for us.
In a defending phase we will talk about box defending, and how your line should work together with goalkeeper. We will also go through, what is important when long balls are coming behind defense line and where your goalkeeper should be.
When you complete this course you will able to understand:
How the goalkeeper affects your team shape;
How the goalkeeper can help your team when opponents are pressing high;
How you can keep the full possession with goalkeeper.
Course Features
Lectures

46

Quizzes

0

Duration

3 hours

Skill level

All levels

Language

English

Students

148

Assessments

Yes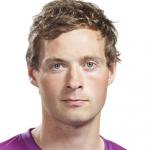 Actually working as the Head of Goalkeeping at Finland FA and Goalkeeper coach FC Honka, Eemeli was a professional Goalkeeper in several clubs and at the National Team.
About the course

0

Inside the game center

15

Decision-Making

1

Outside the game center

25

Concluding

1
Andre Carvalho

Modern goalkeeper approach

The formation was very productive, about how the goalkeeper should position himself in various moments of the game. I had some lights as the goalkeeper must play in modern football. Come more formations like this! Thanks André Carvalho

Daniele Zangolli

New take on GK development

Very refreshing to get a new insight on the goalkeepers role, In the course you get more detail on how the goalkeeper links with their centre backs and the team explaining what decisions are generally made in response to particular cues made by opponents and teammates. Thank you and definitely worth the wait.
You May Like
You May Like
€35.00
€26.25