Are you looking to improve the quality of your training sessions?
Do you want to build more effective tasks in your exercises?
Do you want to create exercises with higher transfers to the practice?
In this course Luís Vilar, experienced coach and researcher, will explain you step-by-step everything about the state-of-art Constrain-led Model for Soccer Coaching. You will learn how to build training tasks manipulating the objectives, the rules, the difficulty and complexity in order to obtain better and more sustainable results.
At the end of this course you will understand how training methodology meets the practice and how to design tasks based on this breakthrough model allowing you to produce exercises with greater transfer to the match situation.
This course issues a conclusion certificate which enables you to use the model at a proficient level!
Course Features
Lectures

23

Quizzes

0

Duration

4 hours

Skill level

All levels

Language

English

Students

303

Assessments

Yes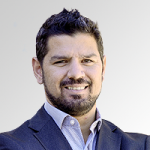 Luís Vilar finished his PhD in Sports Sciences in 2012, investigating the informational constraints on performance in Soccer. In 2016 finished the Executive Master in Management. Currently, he is Director of the Faculty of Health and Sports Sciences at Universidade Europeia and TV Soccer analyst at SIC and A Bola. He teaches UEFA-pro courses for coaches. He was a soccer and a futsal player.
1. Intro

0

2. Training Methodology

5

Traditional training methods

11 min

Stages of learning process

11 min

Constraint-led model of training: Foundations I

12 min

Constraint-led model of training: Foundations II

14 min

Constraint-led model of training: Foundations III

12 min

Constraint-led model of training: Foundations IV

12 min

3. Building training tasks: the objectives

5

Non-representative training tasks

14 min

Ball maintenance training tasks

12 min

Goal Scoring training tasks

13 min

Ball Maintenance & Scoring Goals training tasks

13 min

Competitive training tasks

14 min

4. Building training tasks: the rules

6

Match format

11 min

Pitch size

11 min

Number of players

10 min

Number of goalposts

12 min

Number of ball touches

14 min

Time

14 min

5. Building training tasks: difficulty and complexity

4

Opportunities for action

15 min

The difficulty of training tasks

05 min

The complexity of training tasks

09 min

Implications for planning

14 min

6. Summarizing

1

Concluding

02 min
Fábio Saraiva

Great course

This course is extremely interesting. They provide a new way to perceive all information regarding soccer, such as the importance of action fidelity when design small-sided games (or different tasks), how to maintain the coupling between perception-action, and constrain players' actions. I hope to see other courses like this! Great job!

Jeroen

Top course

Great course, gives you a different view on soccer training content.

picona

Very informative course

This course explained constraints-led model in details.I already started to apply it and my kids love it.

vinblaine

Constraints Led

A scientific approach to developing training tasks that was presented in a very mythological way. Great information that all coaches should be exposed to. Looking forward to more from the coach.

hawk84

Great course which will give you new look on football training process

This course is one of the best that I've bought on Soccer Hub. What i liked the most during this lessons is the different date about Intensity, difficulty and some other data of the training process. The datas that are intruduced in this course gives you another view on football. The part of planinng the trainig accordinfg to difficulty gives me new ideas how i can to introduce my plans not only to the players but also to the coaches in my academy. Thank you!
You May Like
You May Like