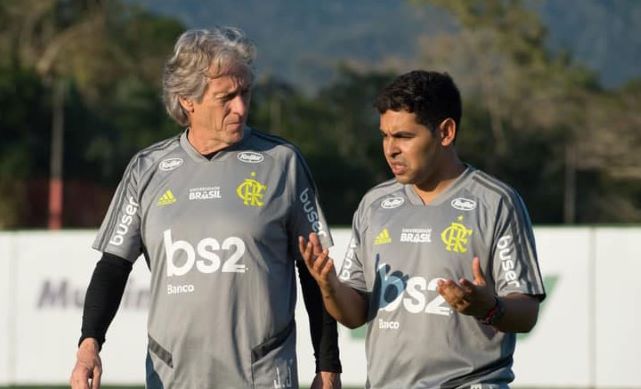 Secrets of CR Flamengo unveiled by its Assistant Coach
Interview: Marcio Sampaio – "Most people think that Brazil is third-world. No – the cities they call training centres are maybe the most innovative in the world".
On the eve of his generational CR Flamengo side's first Copa Libertadores Final since 1981 – when Rubro-Negra's team boasted the likes of Zico and Nunes and was managed by the fabled Paulo César Carpegiani – Marcio Sampaio spoke with Soccer Hub's Ricardo Balbeira to dispel some of the myths about the Brazilian game, its medical-technical intricacies and how those who work quietly at its epicentre stay its course in the shadow of its more bodacious bigwigs.
Marcio is a strength and conditioning coach under Jorge Jesus at Flamengo. "Our work is basically injury prevention – because of the travel and because of the games, we are very worried about recovery", he elaborates. Brazilian football – and the South American game at large – is infamous for its gruelling format with teams competing in the national and state championships as well as the Copa do Brasil and, depending on their performance in the previous campaign, the Copa Libertadores. This necessitates that the physical condition of a team's players is central to their success. "The logistics here are very, very different", Marcio explains.
"When we arrive in Brazil in June, some players already have [played] 30 games… They can make 65 games in a season, so this is a challenge also".
Marcio job description is very specific, but how does it differ to the approach that a professional in a similar position in Europe would adopt? "The logistics here are very different," Marcio laments. How so? Well, the sheer size of the 5th largest and 6th most populous country in the world brings with it its own unique set obstacles: "about travel, to make the game sometimes you travel four or five hours – in China, it is the same. This is a big problem".
There are other factors which make Marcio's working life in Flamengo distinctly different from his time in Portugal with Sporting Lisbon or Saudi Arabia with Al-Shabab. Most of these disparities are in his current climate's favour though,
"most people think that Brazil is third-world. No – the cities they call training centres are maybe the most innovative in the world. They invest a lot of money into these centres".
This is just one example of how Marcio – who is Portuguese by birth – was eager to defend his adopted home in this interview. He also spoke passionately when defending Brazilian footballers from the stereotypical accusation that they gifted but workshy –
"until now [the present day], I never called one player to do work, they arrive an hour and a half before… they work by themselves in the gym, they do the programme – I never called one player to the gym to do anything".
Returning to the topic of recovery, Marcio explained how he and Flamengo aim for the marginal gains which can give them the edge over their opponents with similarly challenging work schedules. "We fly in private aeroplanes now so we can recover the players", adding "we do thermography, we do blood tests, urine tests". Flamengo it seems have been instrumental in the positive programmes that Marcio has initiated in his time in Brazil, "we have very good background with [the] medical staff, so the club buys everything we need to help with the players… we are all in one situation: recover the players to play in the next game, that is what we want".
Asked about what it was that makes Jorge Jesus – Flamengo's manager since the start of the season – so successful, Marcio said with a smile
"it's a big challenge because he has many requirements Every day is a different day. He is the kind of coach that every day is asking you for a new challenge. He wants to know everything about everybody. When you think he is not watching something, he is watching".
Marcio's passion for his job is infectious, eager to carry on even after the interview was due to finish. "You cannot be lazy, you cannot go to the training and be thinking about other situations", he said regarding his work ethic under Jorge Mendes, a coach whose principles very much align with his own.
Commenting on his Flamengo side's philosophy regarding change, Marcio answered:
"we just change if we have to change". If it ain't broke, don't fix it: this message is one which many coaches around the world could do with paying attention to.
Good luck to Marcio and Flamengo in the Copa Libertadores final on Saturday. Everyone here at Soccer Hub will be rooting for you.
Find more about Strength and Conditioning at: https://hub-soccer.com/courses/strength-and-conditioning-apear-model-certification/
Written by Adam Williams