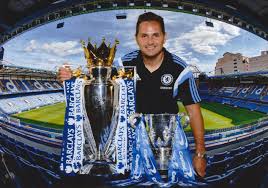 Interview with Saul Isaksson-Hurst: "my ambition is always to be one of the best in the world"
In the most recent instalment of Soccer Hub's interview series, Ricardo sat down for 20 minutes of captivating discussion with Saul Isaksson-Hurst, a former youth coach with Tottenham Hotspur and Chelsea and expert in ball mastery and 1v1 skills training. As well as providing a genuinely fascinating insight into the world of foundation level coaching, Saul was promoting My Personal Football Coach, an online development platform which focuses primarily on individual technical training.
From the way Saul spoke with such enthusiasm and vivacity about his area of expertise, it is abundantly clear that he is passionate both about his own career and the game at large. Discussing his roots in football, Saul told of how he worked in America for a number of years before returning to England and getting "a job at Tottenham Hotspur in the community scheme, working my way up into the academy, spending six years there then moving on to Chelsea". 
This thoroughgoing footballing education set him up to focus on his principal aspirations. For Saul, 1v1 coaching and ball mastery have always been "my passion, my specialism". These focal points were what lead him to develop the My Personal Football Coach platform.
"Individual technical work was always a really important part of what I did and still do" – Saul took what he had learned from his time working with Premier League clubs and repackaged it to develop his own vision of developing players' individual technical ability: "technical homework to do away from training was always a pivotal part of the philosophy at Spurs and I took that to Chelsea with me". 
And this, above all else, is what Saul believes makes his online coaching platform special, "that's really what's unique about it, I think, it's really set up for the individual players to use and go and take ownership of their technical development and they can access if they're 5,6,7,8 year old or if they're a 17+ year-old or a professional". Proudly, he says "people, players, parents and clubs [can] go and access some world-class technical training that players [can] do individually – by themselves". It's had enormous success too, Saul told of the platform's use by clubs such as Wolverhampton Wanderers and LA Galaxy and "grassroots clubs all around the world as well".
Although the platform can be utilised by players of all ages, its primary focus is on younger players looking to make the most of their key stage of sporting development. Asked why he focuses on the foundation stage and whether he has any ambitions to move beyond it, Saul's answer was prosaic: "I'd found my niche". "I identified the fact that id found something I was really good at, I always aspired to be one of the best in the world at it", he said. Speaking like a true coach, Saul spoke of the importance of maximising your strongest attributes – "it's important to understand where your strengths are – not everyone can be Pep Guardiola, not everyone is designed to coach the first team". But, in Saul's eyes, this is far from a bad thing in terms of career development, "Chelsea has a full-time member of staff that manages the 9s and the 10s, someone else the 11s and the 12s and so on, and its not unusual for clubs to have more of these full-time opportunities".
This was one of a number of positive trends within the English game that Saul observes. When asked about the absence of English coaches at the top level in their homeland he pointed to Graham Potter and Eddie Howe, both of whom not only are managing near the apex of the world game but are playing attractive football too. "The old-style English play, you know, your 4-4-2, 'stick it in the mixer', quite direct play which was English football for many generations – that really doesn't represent modern football anymore", he said before assessing that "slowly, that attitudes towards English football] is changing – I think that's a reflection of how the games changed here".  
Clearly, this progression is largely due to gradual changes in the nation's collective footballing culture. This has been a 'trickle-down' effect from coaches, such as Saul, who are more open-minded with regards to the possibilities of the game than their forerunners – "I've visited Ajax a lot", Saul said. "The types of players that come out of these cultures, that really interests me as well". 
"My ambition is always to be one of the best in the world at what I do", concluded Saul. Finally, echoing sentiments we hear expressed time and time again here at Soccer Hub, he advised: "keep on learning, keep on developing". Check out Saul's My Personal Football Coach App here.
Click here and see all interview