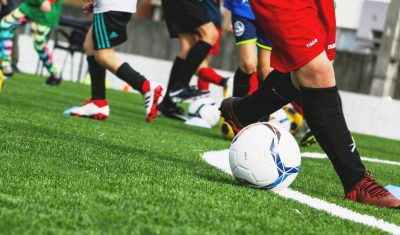 Soccer Hub Interviews Peter Prickett, author of Developing Skill: a Guide to 3v3 Soccer Coaching
Early in October, Soccer Hub managed to grab the in-demand author of Developing Skill: a Guide to 3v3 Soccer coaching, Peter Prickett, for 20 minutes of engaging football chat . The book focuses, as the title suggests, on the benefits of three on three matches in training sessions at all levels of the game. During our interview, Peter talked about how his ideas on training strategy were influenced by other variations on the game such as FUNino and futsal as well as his background in youth coaching and his plans for the future. 
As well as a published author, Peter is a Level 3 football coach, futsal tutor and coach with Old Etonian FC and Brentford FC Community Sports Trust. Asked about the path that led him to his current situation, Peter mused on his life before football. 
"I've been a coach for ten years," but "before I was a coach, I was involved in property. We had a recession ten years ago and I needed to find some more work". 
Originally, Peter looked into options that were about as far removed from his current role in the sport as is possible- computing, for example. That was until he thought, "I don't really like computers that much". Football, on the other hand, Peter did like – "I was watching a television programme and someone was doing their coaching badges and I said to myself 'if the badges cost the same amount of money that the computing would cost, would I do it?' I said to myself, 'yes!'". 
Peter got in touch with former England and Arsenal forward Rachel Yankey and from there, "it [his career in coaching] just built and built and built". 
"I didn't decide to write a book – if people had been paying attention, they could have had everything for free" – Peter's words on how he sort of 'fell in' to becoming an author after posting a tonne of coaching content online. He had been working on a module with the development centre at Brentford, "the module was 1v1, 2v2…".
While Peter is a fan of 1v1, he laments 2v2's lack of "depth and width". Therefore, he said, "I worked harder on 3v3". Surprisingly, "there was not much out there" on the subject. 
"Triangles, the game is built on triangles – both in offence and defence". Nowadays, we hear a lot about triangles. They're a reality in the modern game at every level and Peter's 3v3 harnesses their effectiveness and instills players with the instincts to play in triangles in an 11-a-side game. With this three-a-side regime, players have the opportunity for "more touches" and "one-on-one situations".
"People say ' yeah, but what about the diamond?'. Well, of course, but the diamond is two triangles," Peter said, prosaically. "My trade-off is slightly more touches for a slight change in shape but also getting the fundamental principles of football out in a very small-sided game". 
Taking a slight detour from 3v3, Peter was asked about futsal and if it should be the first stage of development for young footballers, as many have suggested. "I don't know if it should be the first stage, but that would be different from country to country", he said, alluding to the fact that in Brazil, the nation with arguably the most technically proficient footballer's in the game, the youth are taught to play futsal from an early age. 
"The book took a lot of inspiration from futsal", Peter stated. "There's huge crossover, massive benefits," but "for me, it's a game: you can do whatever you want. If you want to use it to develop your football, great. If you wanna play futsal to play futstal, great as well", he said. This is a spirit many coaches could do well to adopt; to remember that football or futsal or whatever variation is, at the end of the day, a game to be enjoyed. 
Speaking on commonalities between his 3v3 and futsal, he said, "the principle of having a high-speed game with lots of decision-making and increased touches, it's the same principles that I'm using for the 3v3". Peter thinks that "a lot of people don't realise until they actually play the game how fast it is and how controlling that ball and having to make those choices is different to football". The same can be said of another football variant, FUNino – "the German FA are moving towards more 3vs and I believe its based on the FUNino model" he said before adding "I'm not trying to replace it with what I'm doing, I'm trying to add to the brilliant work" already done in Germany. "Play is great", Peter said, "but we can also add rules and conditions that mean we can add elements of learning that go slightly beyond what's laid out in FUNino". 
"Time is always a challenge", Peter mused philosophically when asked about the challenges facing youth coaches in England. "If you have three hours of training a week, you probably want four. If you have four hours, you probably want five – there's always more you can be doing".
Asked about his future plans, Peter talked about his desire to go into coaching full-time once he has finished his studies. He concluded tantalisingly, saying, "book number two is virtually finished".
Watch the full interview bellow:
If you want to know more about soccer coaching, take one of our courses: www.hub-soccer.com